Introducing
celebrity hairdresser + our brand ambassador, Michelle Sultan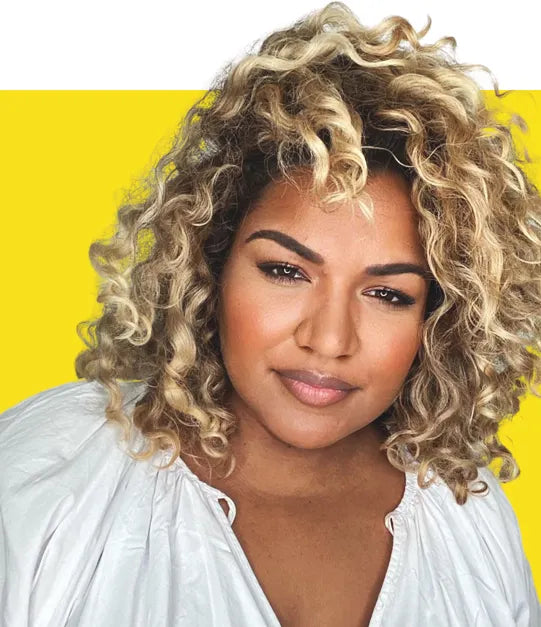 Hey guys, my name is Michelle Sultan, Creative Director and Brand Ambassador for Imbue.
I would love to tell you a little bit about me.
My career started out in the late 90s when I developed a LOVE for hairdressing. During summer holiday, my mum would send me to New York to spend the holidays there rather than being home alone in London. My Aunt Wilma, whom I stayed with, worked from her basement converted in a hair salon, where clients old and young would come from far and wide just to have their hair done by her. She was always so caring and careful with their precious tresses. I would watch for hours as she transformed not only their hair but their confidence and the way they looked at themselves in the mirror after she was finished. I would listen for hours the stories being shared amongst her clients talking about the "last time she did their hair" and the magic powers she would give them and the amazing experiences that would happen after their hair "was did". This ignited a passion in me that made me believe that I wanted to be a part of this same adventure and start doing hair myself.
Every summer I would go and every time she had me do more and more. At the time, I couldn't do a lot as I was still learning but she taught me to take time with people and be gentle with their hair, as it meant so much to them. From this, a passion was born. As soon as I was able to leave school, I went to college to get a qualification. The teachers would tell me I had a knack for hair, and I was often leaps ahead of the other students.
As soon as there were work-experience opportunities, I would fly myself back to New York, working on perfecting my newly learned skills, my aunt even threw a fake graduation ceremony for me where all my cousins attended. Fast forward to being back home in London I joined various salon groups. Eventually, I joined a local salon which was a pillar in the textured hair category. It was fast paced and had hundreds of clients coming in and out. It reminded me of a conveyor belt, but always maintained my caring nature, always encouraging clients to wear their hair in whichever way made them feel amazing. I think that has always stuck with me.
In the last 20+ years I have had the privilege of working with many high-profile clients such as Kelly Rowland, Serena Williams, Alesha Dixon, Jill Scott, Jennifer Hudson, Alison Hammond, Vick Hope, Mel B, Motsi Mabusi, Oti Mabusi, Aj Adudo, Michelle Williams, Alex Scott, Marisha Wallace, Amber Gill as well as various others working on TV shows, Tours, music award shows. No two weeks are ever the same and I count myself incredibly lucky to have such an amazing career.